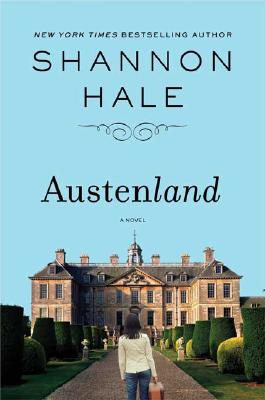 Yes, I'm blogging at 6:30am which means I'm actually up before 8am. Contain your shock! My father would be proud; he's always harassed me about my night owlish ways. But I digress. I had to share that one of my favorite books
Austenland
by Shannon Hale is being made into a movie. If you happen to love Jane Austen as I do, you must read Hale's modern take on an Austen-ish tale. Then when the movie comes out, go and see it!
Shannon Hale announced the movie production on her blog
Squeetus
and you can also read a more official announcement at
The Hollywood Reporter
. The screenplay is co-written by Shannon Hale and Jerusha Hess (of
Napolean Dynamite
fame) with Jerusha Hess directing. And Stephenie Meyer will be producing the film. Talk about Mormon girl power!
On a completely different note, we had our first tornado warning, sirens and all, in our new home. It wasn't our first tornado warning experience; our first was at Maija's kindergarten "graduation" (yes, that has to be in parenthesis because seriously...in kindergarten?) back in May. Her school went on lockdown twice within an hour and a half and there we all were crouched on the floor in an elementary school hallway. Yesterday, we were cleaning the house for my parents' arrival, when the neighborhood sirens went off. We woke the napping babies, grabbed the dog and our two older children and headed for the basement. The poor babies were so disoriented and scared. The worst part though was having no idea what was happening and not being experienced or prepared enough to even know
how
to find out what was happening. We will be buying a weather alert radio soon.
In the end, my parents' flight from Raleigh, North Carolina was diverted to Albuquerque and redirected back to Denver. They arrived so late that they went straight to their hotel. All that cleaning and they didn't even see the perfectly clean house. You know that within the next hour when my kids wake up, this house will be anything but clean. Sigh. But, at least, they get to see their grandparents today.